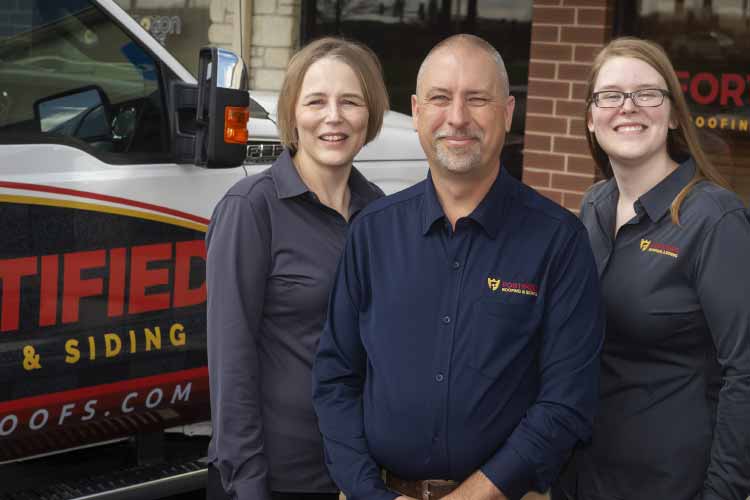 fortified roofing & siding
Philanthropy
As a local exterior remodeling company serving the greater Columbia, MO area, Fortified Roofing & Siding goes above and beyond to be there for our local communities. That means you can count on us to provide support, not just all throughout your exterior remodel, but outside of that, too.
Through everything we do, we aim to be customer-oriented with a focus on honesty, transparency, and quality. We do the work right the first time, and we won't be satisfied until you are! We also have a strong focus on our philanthropic efforts, so we can have an even bigger impact on local Mid-Missouri towns.
Over 5,000 Customers Served
Throughout our years in service, we've helped over 5,000 local property owners with their exterior renovations, and we're excited to see that number continue to grow.
Family-Owned, Family-Operated
We are a family-owned and locally operated exterior remodeling business, and we care about our local customers and their properties.
Great Customer Care
We offer full-service support throughout your remodeling project, so you can get the care you need for your property and have any questions answered along the way.
Over 20 Years of Experience
We've been transforming local homes for over 20 years, and we've helped thousands of customers along the way.
What we offer
About Our Philanthropy Work
When you work with our local team, you can enjoy comprehensive care that meets all your wants and needs for your space. At Fortified Roofing & Siding, we go above and beyond to improve the communities we serve in more ways than one.
As a part of our commitment to our local community, we ask each member of our team to choose a charity that means something to them. Once they've made their selection, our entire company pitches in to help through volunteer hours and raising money for donations.
Get a free quote